TAU2 is a genuine dating site, the site for those who are seeking a committed relationship. Our most precious award is to hear from our members that they have started a family or entered into a new relationship with the help of our website.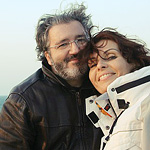 Olga is a photographer from Stavropol, she met Joao, an artist from Portugal, and came to visit him. They spent several months together. On her second visit Olga brought her daughter with her — she has come to stay in Portugal.

We asked Olga to tell us how she and Joao have overcome the barriers of distance, language and bureaucratic problems, how they have gone all the way from registering on TAU2 to a wedding ceremony and the move to another country.
If you have found your happiness thanks to TAU2, be sure to tell about this to the site members. You can also share your story or personal experience or give a piece of advice. Write to us at blog@tau2.com and you will be featured in a blog entry on TAU2 Blog.

About The Author
Елена
Elena is the blog editor. She listens to your stories and writes them down for blog.tau2.com. She talks to the couples who have found each other on TAU2 and tells their stories of love (Just Married! section). She interviews those who have just started on the road to a happy family (My Family section). She helps those whose search has got to a dead end. Write to her at blog@tau2.com.
Share a story!

You can become an author of TAU2 Blog or have a story written about you. We are waiting for your comments, ideas, suggestions and opinions.