My family is my castle, my home front. There is no place for betrayal, hypocrisy or window dressing. It's a place where one's body and soul can rest, where one can just read a book, enjoy the company of the close ones or just kick one's feet up.
At present my family consists of my mother Victoria, my son Roman, our cat Snezhka and myself. I've inherited some features from my mother, but I am a lot like my father, both in appearance and in character.
My father died a long time ago, I didn't see him for thirty years, since I was three, as my parents were divorced. My mother is retired now, I will be very happy if she meets a worthy man and finds her happiness. My son is 17 now, he studies to become an auto mechanic. At his spare time he's riding a bike with his friends.
Women-Lionesses and Their Pride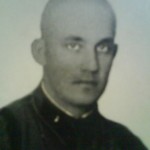 Our pride is my grandfather Vyacheslav who fell for his country. He took part in the Great Patriotic War, was awarded the rank of captain. He was in charge of a small group of soldiers — all that was left of their battalion, and for three days they held the line near Kamenetz-Podolski. He was killed the day before his military unit was disbanded. Posthumously, he was awarded the highest military award in the USSR, the Hero of the Soviet Union title. Stalin personally presented my late grandmother, as a widow of a military officer, with 70 hundred square metres of land. We don't have family traditions. We just give each other presents for holidays and birhdays and eat cake. We don't approve of alcohol and cigarettes.
We have guests who come to visit: my friends, my mother's friends and some neighbours (we live in a nine-storey apartment building). I have few friends, it's very hard to find the true friend but I prefer quality to quantity: I don't make friends just to have a lot of them.
In our family all females were born under the sign of Leo — even our cat Snezhka. She is just as proud and independent as her mistresses. She doesn't snuggles up to just anybody, she can even hiss and strike out at a stranger. I am exactly the way that women born under the sign of Leo are supposed to be. When I read horoscopes, I feel like I was the one they studied to write that description.
I Will Make A Good Wife
There are no ideal people or ideal families. There are always some things that make life difficult. I would like to see a strong and independent man by my side. Mama's boys should look somewhere else! The beloved of a woman-Lioness is a knight, a romantic, good looking, preferably tall, generous, loyal, ready to shower his woman with gifts and attention but leaving her some breathing space as well. The relationship with him is built on trust and mutual understanding. I will make a good wife: calm, kind, caring, ready to find a compromise. I will be loyal, honest and devoted if my husband is honest with me. This is the law for me: I hate betrayal! Though I can forgive my BELOVED one a lot.
I let the man to be the breadwinner. I will be happy to be a housewife, but if there's a chance I would like to have my own little business — something to do with the animals, as I love them very much. In the family there should be equality. I won't stand humiliations. If my husband has his own business and needs my help, I would be happy to do it. All family members should be helping each other.
There Should Be Only One Mistress In The House
I would like my mother to find her happiness as well. And, when leaving to join my future husband, I'll be very upset to leave her alone! I would be very happy if my husband can solve this problem.
I would prefer to share the house only with my husband and my son and have all the other relatives living nearby. Because having two mistresses in one household inevitably leads to rows as they have different tastes and different habits. This leads to quarrels, fatigue, bad mood — and divorce. And I would love to find my man, my better half, and never part with him. I'm longing for warmth, peace in my soul and understanding.
[portfolio_slideshow id=1052]

About The Author
Valeria (Kharkov, Ukraine)
Valeria, 39, from Kharkov, Ukraine. She calls herself a woman-Lioness. She speaks Italian, likes reading, watching videos, biking and travelling.
Share a story!

You can become an author of TAU2 Blog or have a story written about you. We are waiting for your comments, ideas, suggestions and opinions.