It was fate, there's no other explanation…
For almost a year now Lyudmila has been living in paradise. That's what she says when asked whether she likes her new homeland and adds that, perhaps, this is because with the loved one even a tent becomes a palace. Lyudmila married Ethan, an American working for a medical company. They met on TAU2.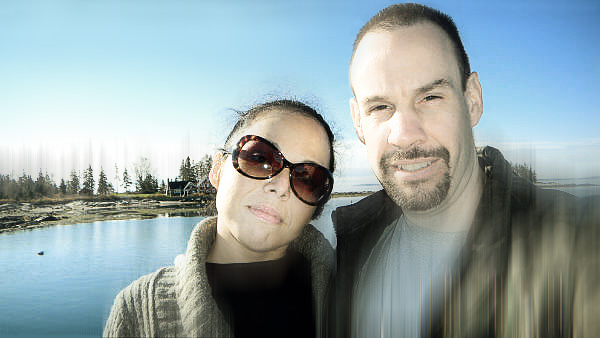 — How did you get to TAU2?
It was fate, there's no other explanation…
I lived with a boyfriend for 8 years but the moment came when I realised that we were already drifting apart. We were sort of together and sort of not together. So, I was sitting at my computer, feeling blue, just punching the keys… And somehow I got to TAU2. I had no intention of meeting any men. I just thought that, perhaps, I could get a job there, maybe someone needs a translator and I can speak two languages…
In two months my relationship with that boyfriend finally ended and I thought of TAU2 and went there again. I always knew that I would never marry a Russian or Ukranian guy because they are not the kind of men I like. That's why I was searching for someone from a far away place.
— Was it an intuitive feeling?
It's just that men are different. I don't understand our men. In the West men are different, I like them better. They treat women differently, with more respect. They are ready to give instead of saying 'I'm a man, I want this'.
America was my last choice when it came to choosing a country to live in. I liked Europe better as it's closer to home, closer to my mother. And now an ocean separates us… I wanted to go to Portugal, I like the way of life there, I know those people, their culture and traditions. But the Portugal men I met were interested in blondes and I'm not a blonde, I look different. I look like a Portuguese woman, I have dark skin, dark hair, I'm not tall and the Portugues men weren't interested in me.
— Tell us about your husband. At what moment did you realise that this man was to become your husband?
My husband's name is Ethan, he works for a medical company. On TAU2 he was the first to notice me — he put a heart on my profile. I replied to him, he wrote about himself, asked something and we started writing to each other.
We just talked, we talked a lot. There was no moment when I said to myself, 'Oh! He's the one!'. At first we wrote each other letters, then we talked on Skype, every day, then we met face to face. It wasn't like we saw each other, embraced and kissed and — voila! — we've got it! Things developed gradually. Ethan suggested that we met in person. I still had a valid visa for Portugal, so I suggested that we would meet there.
— Do you remember the first time you saw him face to face?
It was an interesting moment. In reality he didn't look like he looked on Skype. He even seemed shorter. During the first meeting it's natural to feel nervous, it's like meeting a stranger. All the previous experience of communicating with this person is forgotten, that is, one still remembers the information, but the emotions are erased, one has to get used to each other all over again.
For ten days we were together in Portugal. And when we returned home, we decided to apply for my visa because we realised that online communication wasn't enough, we wanted more. When one isn't twenty years old, one wants to have a family, not just to talk and to date. Then I was waiting for the visa for ten months, though sometimes it takes longer. On my flight to the USA I met a girl from Kazakhstan who had been waiting for two years to get her visa.
So, we started writing to each other in July 2009, we met in person at the end of that year. And on 29 October 2010 I was already in the USA. It happened to be his mother's birthday and he even forgot to wish her a happy birthday. Poor mom! But she is good, she forgave him. His family was very nice to me.
Now I have the white American wedding band.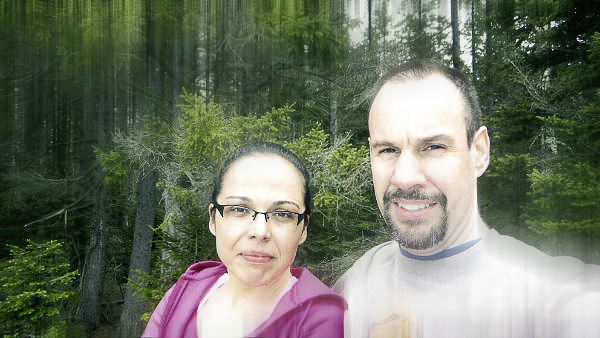 — Why is it white?
Everybody here has one like that, white gold is very popular. I didn't want to look different. The wedding band is worn on the left hand, together with the engagement ring.
— I know that recently you have found a job…
This is my first job here, so it's nothing special. I live in a small tourist town with the population of only 1,200 people. For a person with no experience there's little choice of jobs. I don't have any experience. In Portugal I worked at first as a housekeeper, then as a dentist assistant. But here it's not easy to get a job, one needs American education certificates. That's why I got a job at a laundry. I like it. The job is simple. The co-workers are great. Americans turned out to be even better than Portuguese as they don't pry into one's personal life. I'm a sociable person, but I don't open my heart to strangers. And Americans just ask how things are going, talk about weather, about the latest news and that's it.
— So, you like everything in your new homeland?
I live in paradise. First of all, the place itself is very beautiful. It's even impossible to describe. Either I got to the place where I was destined to live or it's a paradise wherever my loved one lives here. But I love it here. It's a tourist destination, there's woods, ocean, clean water, mountains. There are few people, few cars, no factories. Instead there are lots of animals and plants… Just like I said, it's a real paradise.
— And how's life in the paradise?
I got used to it gradually. I have already had a similar experience, I lived in Portugal for a long time. I got there ten years ago, started meeting people and got some 'life experience'. So this time I was careful. I hid in the flat where we live like a turtle in its shell and only in four months I started leaving the house on my own.
My husband has two children who call me odd because everything I do looks funny to them, everything is strange, not the way they are used to. The way I dress, the way I walk, the way I cook, the way I eat — they find it all odd. Just like they seem a bit odd to me. But it doesn't affect our relationship. I realise that I look strange to them, just like they look strange to me and we laugh about it.
— Lyudmila, what advice could you give to the women who have just started using TAU2?
First of all, learn the language. If your intentions are serious, learn the language. It's very important. Because if you communicate with the help of a translator, then the translator works like a filter: everything positive and negative is filtered out. And you are left with the filtered stuff, lacking vitamins and the most tasty things.
As for the photos for the profile, it's better to have them taken at a professional studio, don't use home made photos. When the pictures look beautiful, then it's not so important what is written in the profile. So have good pictures taken. Also, look after yourself, visit a beautician, so that the photos represent the real you well enough and aren't just made to look pretty in Photoshop. It's also very important to be able to see the eyes clearly on the photos. Men do pay attention to this.
It's also important what you write about yourself. At first I wrote very simple things and nobody, not a single man, got interested in me. I started reading men's profiles and found out that they are written so beautifully, there are a lot of adjectives. Then I re-wrote my profile, not just 'I'm looking for love and a man', but using pretty words. That is, it's necessary to make the effort, to pay for professionally made photos, to take the time to write substantial information about yourself.
A couple more recommendations. When one comes here, the way of thinking changes. We tend to buy something more expensive, some famous brands, something glamorous. And here everyone tries to save a bit and to spend less money. That's why I have some practical advice.
There's no need to get a driver's licence at home if you want to come here and drive a car because here it's much cheaper. Also, unless you have loads of money, it's not worth wasting it on attorneys. All paperwork can be simply and easily done without them. Attorneys demand lots of money, five thousand dollars and more, and that's the money wasted.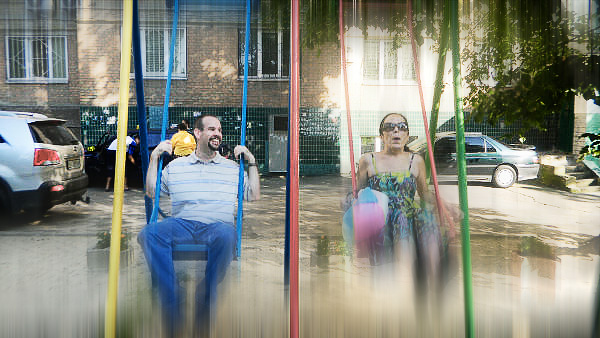 About The Author
Ludmyla (USA)
Lyudmila has been living in paradise. That's what she says when asked whether she likes her new homeland and adds that, perhaps, this is because with the loved one even a tent becomes a palace. Lyudmila married Ethan, an American working for a medical company. They met on TAU2.
Share a story!

You can become an author of TAU2 Blog or have a story written about you. We are waiting for your comments, ideas, suggestions and opinions.