This whole story sounds like a fairy tale…
After the publication of stories or interviews in the blog, their authors often send us very touching and positive letters. «This whole story sounds like a fairy tale… You've given me the wings» — this is what Olga from Minsk, who was featured in our My Family section, wrote to us. And she also shared her joy with us by telling about an event which was very important to all her family and friends: her daughter Violetta got married. Both mother and daughter look so happy on the photos!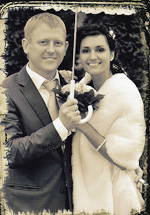 This whole story sounds like a fairy tale… There were not many miracles like this one in my life! I am very grateful to you for your attention, care and the work you've done. I opened the webpage and couldn't believe that all that is happening to me. It's very nice, pleasant and touching. You've given me the wings — this is how I can describe my feelings now. And it doesn't matter much whether my communication on the site will be successful and what it will lead to. I am communicating with people! It makes me happy and makes my life brighter. Over and over again, I want to say, Thank you all! You are the best!
I would love to share with you the photos of our most important family event. Violetta, Oleg and Music say hello to all of you and wish you all the best! Thank you for everything!
[portfolio_slideshow id = 1074 exclude=1090]

About The Author
Olga (Minsk, Belarus)
Olga, 47, Minsk, Belarus. Sociable and romantic. Likes music, theatre, movies and travelling.
Share a story!

You can become an author of TAU2 Blog or have a story written about you. We are waiting for your comments, ideas, suggestions and opinions.